FEATURES & ADVANTAGES
True Galvanic isolation designSolve ultimately the problem of power system, including noise, lightning, and leakage current etc.
Protection against detaching and floating of the neutral of input power supplyEnsure the safety and stability of the UPS power output.
No harms if incorrect operationWith friendly design, different from the strict operation procedure of other brands', UPS will not be damaged by any incorrect operation.
Advanced technology DSP, IGBT and switching componentsIncrease the reliability and efficiency.
Multi-CPU design and software/hardware cooperate controlMake the system extremely high reliable.
Plug & play modular designPermit quick and convenient maintenance.
Each phase with individual inverter supportingCharacteristics will not be violated under 100% unbalance load.
Intelligent charger with temperature compensationProlong the battery life expectancy. And with huge charging power (selectable), can charge very big capacity, long back-up time battery bank.
Intelligent, safe battery test circuitryTest the battery without the risk of output AC failure in case of battery bad. And with battery fluid leakage and improper grounding detect circuitry, can ensure safety of the battery bank.
Intelligent fan speed controlIncrease the fan life expectancy and reduce audible noise.
Reasonable heat evacuation passage designControl circuitry and power circuitry are physically separated. Therefore, the UPS system can operate under harsh environment.
Cool start functionCan be started without AC mains (with battery only) and no any large surge current being drawn.
Variety of accessory (options)Remote control panel, 3 phases software for PC monitoring, auto dialing module, battery monitoring module, 3 phases SNMP card, and emergent stop switch are available.
12-Pulse Full Controlled Rectifier (option)Reduce harmonic current for 80KVA and above UPS.
Input Harmonic Filter (option)Reduce T.H.D.(Total Harmonic Distortion) of input current.
Parallel Operation (option)Connect up to 8 units to increase the capacity.
CABINET SPECIFICATION
Battery Cabinet Design:The battery cabinet is designed with the same size and outlook as the UPS for convenience of installation when several cabinets of UPS and battery are aligned together. It can accommodate Lead Acid maintenance free battery 26Ah/12V*29pcs(1set) or 58pcs(2sets).
Dimension (H ×W ×Dmm):1600 ×550 ×800
Weight:26Ah/12V ×29pcs ×1set is about 360kgs.
26Ah/12V ×29pcs ×2sets is about 620kgs.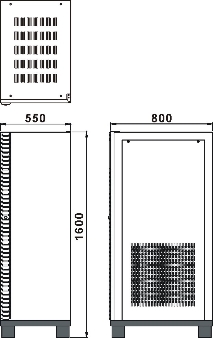 OPTIONS
l UPSCANTM - Remote Control Penal
A hand held display module with LCD and LED can monitor 1 – 99 UPSs with RS-485 connected in series from distance < 1000M.
l UPSCALLTM - Auto Service Call
In case of abnormal situation, it will automatically dial to specified service center for help. Multiple phone numbers can be set and no dedicated line is required.
l UPSCOMTM - PC Monitoring Software
Can provide real-time three phases information of UPS connected on the line and monitor several UPSs with one PC.
l DCMANTM – Battery Monitoring Module
An intelligent module to keep watching each battery in a battery bank connected in series and can distinguish and repair the aged battery before it is seriously worn out.
l SNMP/HTTP agent
Can monitor and manage the UPS through Web browser and Java applet, providing simultaneously three phases data acquisition.
l Emergency Stop Switch
Be installed outside or nearby the UPS for stopping the UPS output in case of emergency.
☆ Different specifications required are available.
☆ All specifications mentioned above are subject to change without prior notice.